Squire Creek's Kimber Pistol
ARI#31012410 D.O.B 6/21/2011
Huacaya, Female, Proven / Light Silver Grey

Sire: Rainier's Silver Pistol / ARI#30616653 / MSG
Dam: Squire Creek's Leola / ARI30983687 / MRG
Kimber is complete package. She has very fine, bright, light silver grey fleece. The yarn from her fleece is very soft and has a heather look that is so popular, making her the favorite of our shearer this year. She has good coverage and staple length, and her crimp is lovely, base to tip! Kimber her first cria in summer 2014, a very fine fleeced light rose grey girl. She has been a wonderful first time mother, with lots of milk and a just the right amount of attentiveness. She is Wendy's favorite and is always ready with a kiss.
06/02/2013 MFD-19.6, SD-4.3, CV-22.1, >30-2.9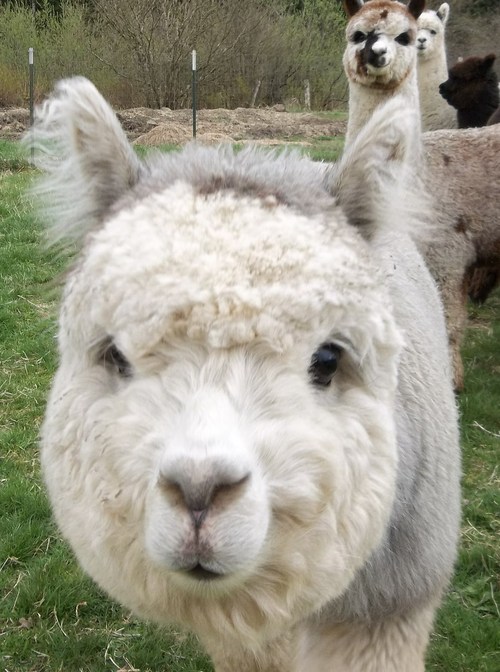 Beautiful silver Grey, Rincon Cloud genetics. Crimp!
$2,500.00
Highway Man's Dominique
ARI#1302585 D.O.B. 6/24/2006
Huacaya, Female, Proven / True Black
Sire: Highway Man S499 AOA IMPAC98 / ARI#821436 / TB
Dam: Klassique Bay D869AOA / ARI#1042313 / TB
Nikki has exceptional bright, fine, crimpy coal black fleece. Her Chilean and Bolivian ancestry includes Highway Man, Legacy De Bolivia, and Bolivian Black Thunder! She has a nice, boxy frame and classic good looks. We are very excited about her 2014 cria out of Cicero (a Patagonia's Lennox son).
Bolivian Black Thunder, Legacy de Bolivia, Highway Man - wow genetics! $1,000.00
Savage Valley's BeBe
Huacaya/ Female / Unproven / True Black
ARI# D.O.B. 7/23/13
Sire: Squire Creek's Lorenzo /ARI#30984226 / DSG
Dam: Highway Man's Dominique/ ARI#1302585 /TB
It is impossible not to fall in love with BeBe! She is equally adorable in full fleece or shorn and is the friendliest alpaca on the farm. She is known for her kisses and the fact that her best friend is our horse Jude. BeBe has good confirmation and lovely black, crimpy fleece.
Squire Creek's Carlotta Pistol
ARI#32242294 D.O.B 6/22/11 MRG WH
Haucaya/ Female/ Proven/ LSG WH

Sire: Rainer's Silver Pistol/ ARI#848093/ MSG WH
Dam: Patagonia's Corazon Mia/ ARI#833490/ DF
She is beautiful girl, just look at that face! In fact, that face launched our alpaca adventure. We took one look at her on Openherd and knew we had to have her. Carlotta has perfect confirmation and fiber that ranges from rich brown to mahogany. She is sweet and laid back.
Squire Creek's Cara Mia
ARI#31588102 D.O.B. 6/26/09 LB
Haucaya/ Female/ Proven LB
Sire: Kaspa /ARI# 833517/ LRG WH
Dam: Patagonia's Fayda/ ARI#1002836/ TB
What handle! This girls fleece is so very soft. Mia is out of the famous herdire Kaspa. Kaspa has a breeding fee of $4,500.00 and has won repeatedly in the show ring. Her 2014 cria, Gallifrey, is a solid Dark Silver Grey that was born with bundles of soft, crimpy fleece. Mia is a no fuss, no drama alpaca and gets along with everyone!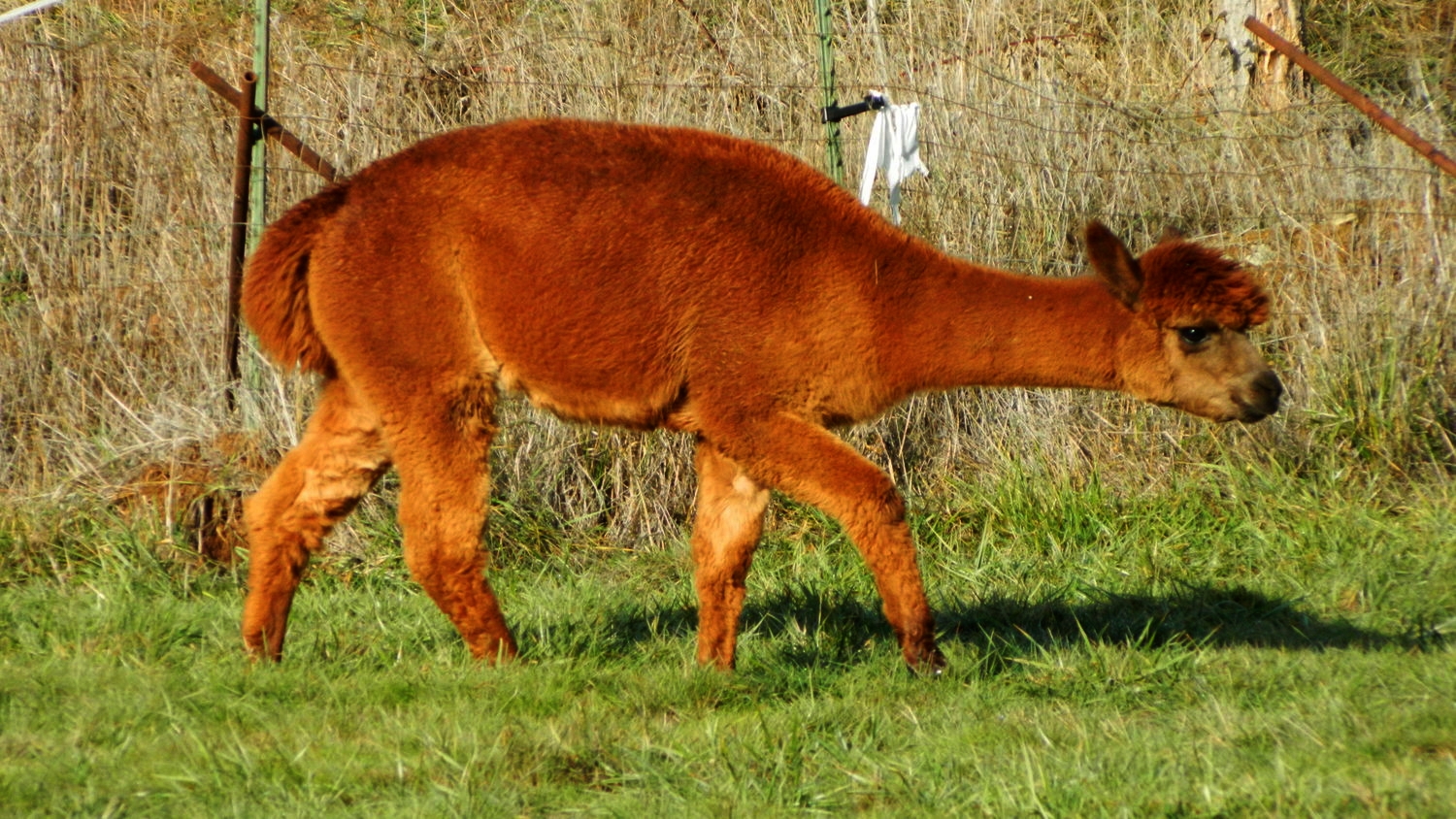 Daughter of Kaspa $1,500.00